The Fighting

Spirit

A EverybodyFights Publication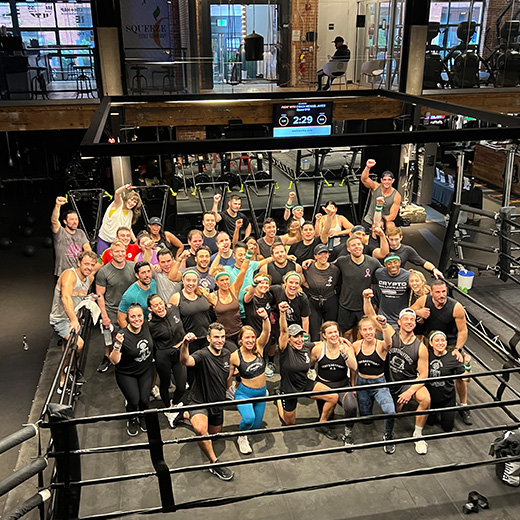 6th Annual Fight For Recovery
NamaStay Sober is a nonprofit whose mission is to aid those in recovery by reconnecting their bodies and minds through affordable yoga, fitness, meditation and wellness-focused community events. Coach Michael James led an incredible workout & team competition at EverybodyFights where people "fought" to help as many people as possible whose lives have been affected by addiction. Prizes were awarded to the competition winners, the top fundraising team, and the top fundraising individual.
Raised:

$19,975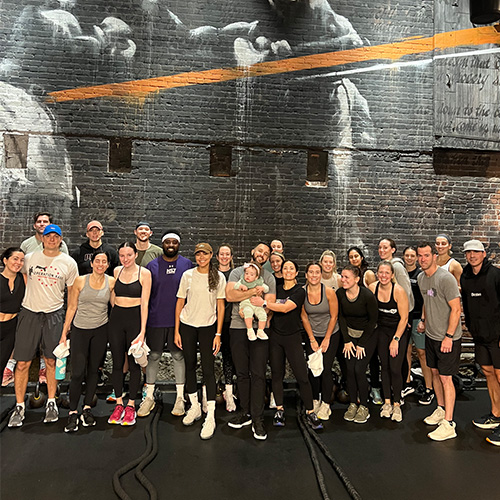 Knockout Cancer Fundraiser Class
Ben Eld and Steph Hogan are running the NYC Marathon in honor of Haymakers for Hope (Cancer Research). They held a fundraiser class at EverybodyFights dedicated to knocking out cancer and supporting those in the fight of their lives. Every penny raised from this event went towards cancer awareness and the incredible efforts of the Haymakers for Hope group.
Raised:

$2,000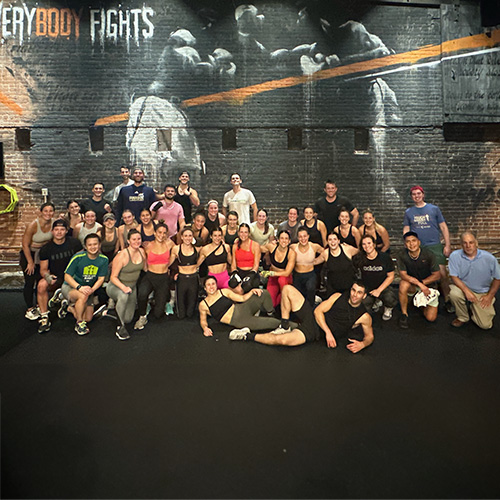 Haymakers for Hope Boxing Fundraiser Class
Haymakers for Hope gives men and women the chance to fight against cancer by training for and competing in a charity boxing event. The Belles of the Brawl recently got together to raise money for Haymakers for Hope by participating in one of EBF's bags classes to help spread awareness. What a great way to show support and get a sweat in with your friends!
Raised:

$1,000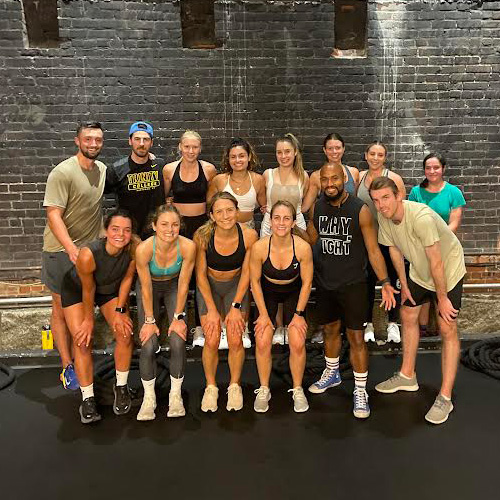 Chicago Marathon Fundraiser
Member Cristen Yakush recently held a fundraiser class to raise money for the Haymakers Foundation as she will be running the Chicago Marathon in October! A group of fighters came together to workout and get sweaty together to show their support for Cristen!
Raised:

$375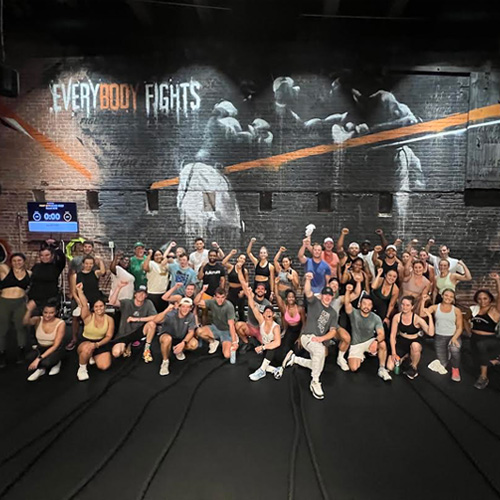 RALLY2GIVE Fundraiser Class
Rally 2 Give's mission is to rally and drive with the purpose to support children and families with disabilities, as well as develop and grow the next generation of leaders, and we are proud and honored to fight alongside this organization to host their 7th annual rally.
Raised:

$3,000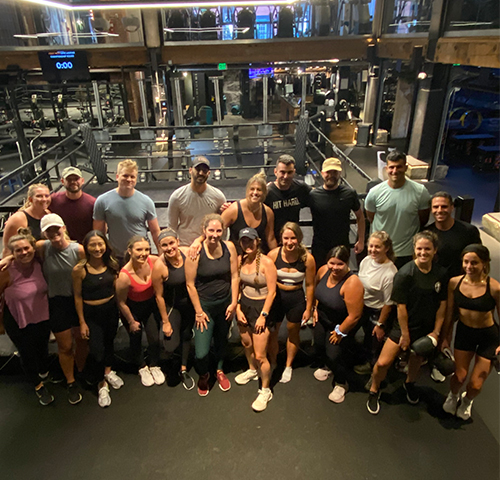 Member Marie's Birthday Bags Class
More than a gym: Our community is the heart and soul of EverybodyFights and between challenging workouts, sweaty high fives, and a shared mindset of hard work and growth, meaningful relationships form. We recently hosted a birthday BAGS class for our longtime member Marie at our Boston Seaport location - We had the opportunity to host her friends and share what EBF is all about, and it was doubly special seeing so many of our team members show up as well.
Raised:
EverybodyFights For Pride
Not just in June, but every month, we fight to be a place where everyone can walk through the doors and feel safe being their best, most authentic self, surrounded by a community that supports them. We are always so excited to raise money for The Trevor Project, which provides free crisis services via phone, text, or chat; 24/7, 365 days a year. Thank you to our incredible community, from HLTP to FIDI to SPRT for creating a self, welcoming gym space where everyone can be 100% themselves, 365 days a year.
Raised:

$6100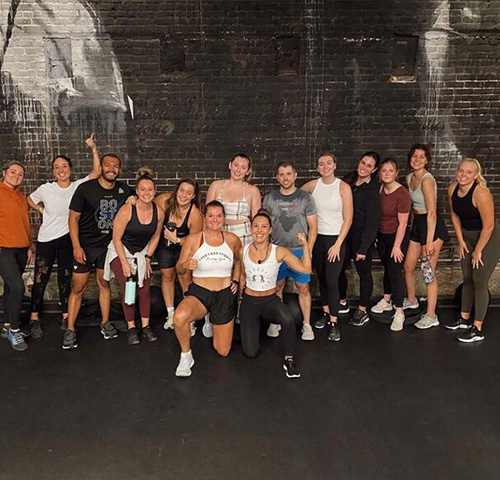 Women's Sports Foundation Charity Fundraiser
We hosted a charity event at our Seaport location with our Fight Fam member Alyssa, who is running the NYC Marathon next month in support of Women's Sports Foundation. The event raised $675 towards Alyssa's fundraising goal, lead by our rock star trainer Santana. We're proud of our community and love having the opportunity to #fightitforward.
Raised:

$675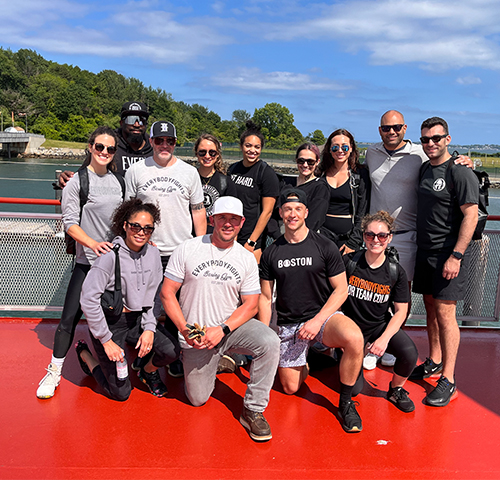 Camp Harbor View Service Day
Our team recently had the opportunity to volunteer with Camp Harbor View, an incredible organization that partners with more than 1,000 Boston teens and their families on year-round programs that inspire creativity, build community, and champion young leaders. The team helped get the island ready to welcome campers on day one, packing and prepping backpacks for campers, organizing camper areas, and helping clean the facilities on the island. We're grateful to get to work within the community and #fightitforward and look forward to our next day of service!
Raised: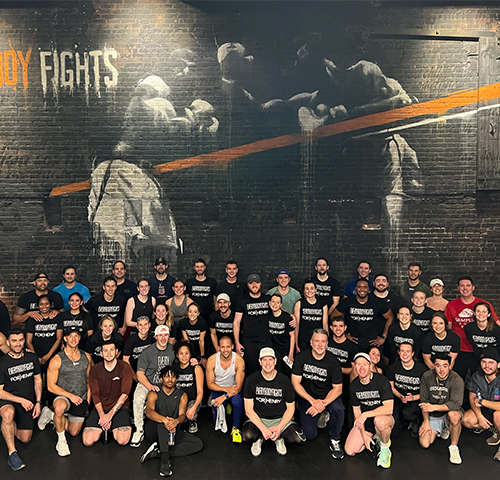 EverybodyFights For Henry
We hosted a fundraiser event for a sweet little boy named Henry who has AHC, a one in a million, severe, life threatening, neurological disease. Henry's family started a non-profit called "For Henry" last year to fund development for a gene therapy. The cost of developing this treatment is $3M. This treatment could be developed in a year and the family is in a race against time to save him before he suffers irreversible brain damage as a result of his disease. A group of 50 fighters came together to show our support for Henry.
Raised:

$3,000